As you can imagine, the question of "Trick or Treat?" was never a difficult one for us to answer. I mean, what kind of monster would choose a trick over a treat? Certainly not us! We live for the sweeter things in life, and you can bet yo' bottom dollar if there's an excuse to indulge, we'll be embracing it with open arms. Now, our first idea for this blog post was to trick or treat around Nottingham and publish a shame list of those houses that gave us fruit, but we've been informed by the powers that be that a) we're too old to trick or treat (disagree) and b) it's illegal. So unfortunately today you'll have to settle with a selection of our fave gluten free day-after-Halloween-left-over-pumpkin recipes!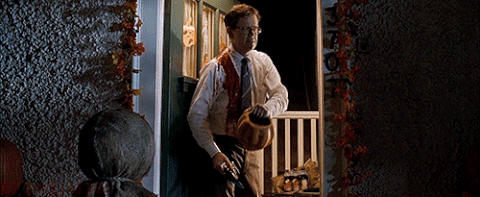 Pumpkin Muffins
We're big fans of the muffin here at the office – we'd actually go as far to say connoisseurs – but we're ashamed to say we've not yet experienced a muffin of the pumpkin variety. That's why we'll be knocking out a few of these tasty little cake dumplings on November 1st…
Ingredients
100 grams Whole Spelt Flour
1 teaspoon Baking Powder
1 teaspoon Ground Mixed Spice
1 teaspoon Ground Cinnamon
2 Eggs
1 Tablespoon Coconut Oil melted
3 Tablespoons Pure Maple Syrup
150 grams Pumpkin Puree
Instructions
Preheat the oven to 160*C and line a muffin tin with 6 muffin cases.
Place the spelt flour into a mixing bowl and sieve in the baking powder, mixed spice and cinnamon. Whisk to combine.
Crack the eggs into a separate bowl and whisk together.
Gently heat the coconut oil until it is almost all melted and then remove from the heat, allow it to melt completely before adding it to the eggs with the maple syrup. Whisk to combine.
Pour the egg mixture into the flour and stir until just mixed together. Fold in the pumpkin puree.
Spoon the mixture evenly between the muffin cases and bake in the oven for 15 minutes.
Allow to cool on a wire rack and store (covered) in a cool dry place.
Find the original recipe on The Kitchen Shed!
Gluten-Free Pumpkin Pie
This next recipe has come from our boy, Jamie Oliver. This could either be a good thing or a bad thing, depending on your stance on Turkey Twizzlers. All we know is it looks, tastes and smells bloomin' marvellous.
Ingredients
vegetable oil
4 kg pumpkin
50 g unsalted butter
125 g golden caster sugar
4 level tablespoons gluten-free plain flour
¼ teaspoon ground nutmeg
ground cinnamon
2 teaspoons vanilla extract
3 large free-range eggs
icing sugar to serve
FOR THE PASTRY:
250 g gluten-free plain flour
½ teaspoon xanthan gum
50 g soft light brown sugar
a pinch of ground cinnamon
125 g unsalted cold butter
1 large free-range egg
semi-skimmed milk
Method
Preheat the oven to 180°C/350°F/gas 4. Lightly grease a 25cm non-stick loose-bottomed tart tin with vegetable oil.
Halve the pumpkin, scoop out and discard the seeds, then roughly chop into large wedges (there's no need to peel it). Spread out on a baking tray, cover with tin foil, then pop in the oven for around 1 hour, or until tender, removing the foil for the final 10 minutes.
Meanwhile, make the pastry. Sieve the flour and xanthan gum from a height into a large bowl, then stir in the sugar and cinnamon. Chop the butter into cubes, then use your fingertips to rub it into the flour mixture until it resembles fine breadcrumbs. Beat the egg in a separate bowl, then add it to the mixture. Use your hands to bring it together into a rough dough, adding a good splash of milk (if needed), but don't overwork it too much at this stage. Pat the dough into a flat round, roughly 2.5cm thick, wrap in clingfilm and place in the fridge to rest for at least 30 minutes.
Once tender, remove the pumpkin from the oven and leave to cool. Roll out the pastry to roughly the thickness of a pound coin (if you find it crumbles too much, roll it out between two large pieces of clingfilm). Carefully place the dough into the prepared tart tin, gently pressing it into the sides. Trim away any overhanging pastry, prick the base with a fork, then place in the fridge to chill for another 10 minutes.
Place a layer of clingfilm into the chilled tart case, fill with uncooked beans or rice, then pop in the oven to blind bake for 10 to 12 minutes. Remove the clingfilm and beans or rice, then cook for a further 5 minutes, or until golden. Remove from the oven and allow to cool completely.
Meanwhile, scoop the cooled pumpkin flesh into a food processor, discarding the skin, then blitz until smooth. Melt the butter in a small pan over a low heat for 1 to 2 minutes, or until dark and frothy. Add the brown butter to the blitzed pumpkin with the sugar, flour, nutmeg, ½ teaspoon of cinnamon and the vanilla extract. Whisk 2 eggs in a separate bowl, add to the processor, then blitz again until well combined. Transfer the mixture to the cooled pastry case, using a fork or spoon to spread it out evenly.
Roll out the leftover pastry to roughly the thickness of a pound coin, then cut it into long strips, roughly 1cm wide. Place on top of the pie, crisscrossing them as you go to create a nice lattice, then trim away any rough edges. Beat the remaining egg and brush over the pastry. Place the pie in the hot oven for 45 to 50 minutes, or until golden. Dust with icing sugar and cinnamon, then serve.
Pumpkin Loaf
This big ol' loaf will have that pile of pumpkin used up before you know it. If you went a little overboard then it may be worth considering baking a few of these – you won't regret it…
Ingredients
400 g pumpkin puree
270 g caster sugar
3 eggs medium
160 g unsalted butter
125 g sweet white rice flour
110 g sorghum flour
100 g millet flour
65 g potato starch
3 teaspoons baking powder
1 teaspoon bicarbonate of soda
1 teaspoon ground cinnamon
¼ teaspoon ground nutmeg
¼ teaspoon ground ginger
¼ teaspoon ground allspice
½ teaspoon salt
30 g pumpkin seeds
1 tablespoon caster sugar
1 tablespoon water
pinch of cinnamon
Instructions
Pre-heat the oven to 170°C and line and grease a 9 inch loaf tin.
First you want to turn your butter into melted brown butter. Place the butter in a saucepan and heat over a medium flame. The butter will melt. Listen carefully and the butter will start hissing and cracking and forming little brown bits at the bottom of the pan. You want to wait until the noises start to subside, the butter smells toasty and is turning a darker colour. Remove from the heat as soon as it's ready so it doesn't begin to burn.
Pour the butter into a food mixer or large mixing bowl along with the pumpkin puree, sugar and eggs and beat until smooth.
In a separate bowl sift together the flours, baking powder, bicarbonate of soda, spices and salt then add to the rest of the mix. Beat until well mixed.
Pour the batter into the baking tin and scatter the pumpkin seeds evenly over the top.
Bake for 55-60 minutes or until an inserted cocktail stick comes out clean.
Leave the pumpkin bread for 5 minutes to settle in the cake tin, then turn out onto a cooling rack and leave for a moment whilst you prepare the cinnamon syrup.
Pour the caster sugar, water and cinnamon into a small saucepan and turn the heat onto low. When the sugar has melted then turn the heat off and brush the syrup over the top of the pumpkin bread. Leave to cool completely before you slice and serve.
Find the original recipe on From The Larder!
---