So…mug cakes are a thing. According to Lucinda from the office we're 'late the party' on this particular food trend, but this concept blew our tiny little minds and we need to channel the excitement into some kind of creative form i.e. this blog post. So for those who aren't familiar with the mug cake, and for those who's deduction abilities aren't quite all there, a mug cake is a cake, within a mug. And that's not slang for some wacky new cake-making apparatus, this is just your every day cup o' tea mug. We know?! Crazy!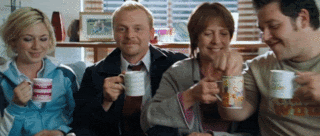 So now we filled you in on the ins and outs of our discovery, we should probably provide you with a few gluten free recipes to get you started. Here are three of the best we've found so far…
Cinnamon Roll
This recipe is not only gluten-free but also suitable for anyone on the paleo diet. It's easy to make and the end product looks and tastes AMAZING. Well worth a go if you have a spare 10 minutes:
Ingredients
2 tablespoons coconut flour
1 teaspoon cinnamon
Pinch of fine grain sea salt
Pinch of nutmeg
½ teaspoon baking powder
1 egg (o 2 flax eggs)
2 tablespoons milk of your choice
1 ½ tablespoons maple syrup
1 tablespoon coconut oil (or butter), melted
½ teaspoon vanilla extract
Icing
1 tablespoon coconut butter
1 tablespoon milk of your choice
1 teaspoon coconut sugar
½ teaspoon lemon juice
Directions
Mix all cinnamon roll ingredients in mug, adding the baking powder last.
Microwave on high for 2 minutes.
In the meantime mix all the icing ingredients in a small bowl.
Drizzle icing over hot cinnamon roll.
Have at it!
http://www.theironyou.com/2015/09/paleo-cinnamon-roll-in-mug.html
Peanut Butter Cookie
A slightly longer ingredient list in this bad boy but just as simple. Mix, pour, microwave, scoff. Simple:
Ingredients
½ cup creamy peanutbutter
2 tablespoons applesauce
2 tablespoons pure maple syrup
1½ tablespoons gluten free oat flour
½ teaspoon coconut flour
1 tablespoon rolled oats
¼ teaspoon baking powder
1 egg
½ teaspoon vanilla extract
⅛ teaspoon sea salt
1 tablespoon unsweetened vanilla almond milk
Instructions
Melt peanut butter in a microwave safe mug for 30 seconds
Add remaining ingredients and mix very well until combined
Microwave for an additional 90 seconds, or until done
Enjoy!
https://buildyourbite.com/peanutbutter-cookie-mug-cake/
3-Ingredient Nutella Cake
Possibly our favourite of the three for the sheer simplicity – we can't get enough of it! This particular recipe requires a 15-minute cooling/condensing period after cooking which, as you can understand, is quite a challenge…
Ingredients
1/4 cup Nutella
1 large egg
1/2 tbsp dutch processed cocoa powder
Directions
Combine all ingredients in an oversized microwave-safe mug. Mix vigorously with a small whisk until batter is smooth and egg has been completely mixed in.
Cook in microwave for about 1 minute 10 seconds. Cake should be set but may be slightly wet on top. Let cake cool for 15 minutes before serving. Cake will condense down during this cooling process. You can replate in a smaller mug/plate/ramekin before serving. You can top with powdered sugar or chocolate syrup.
https://kirbiecravings.com/2015/03/3-ingredient-flourless-nutella-mug-cake.html
Well there you have it. Consider yourselves officially enrolled into the school of mug bakery. Do go away and give it a go, and send us a few pics of the results! Oh, unless we really were the last to know, in which case this has all been for nothing…
---